Member Honors
Member Honors > Teacher Of The Year
Martha Thomas
2012 GMTA Teacher of the Year

Martha's Teaching Tips
Martha Thomas, NCTM, is the 2012 MTNA Teacher of the Year. Her exceptionality is evident in her commitment to teaching, performing, service and professional activities. A native Texan, she came to the University of Georgia School of Music in 1986 and holds degrees in piano performance through the doctoral level. Studies included her work at the Universities of Texas and Wisconsin. Teachers and mentors included William Race, Danielle Martin and Howard Karp. Thomas appeared in master classes with Leon Fleisher, John Perry, and Ronald Turini.
Solo and chamber performances by Thomas have been successfully received across the country and featured performances as a guest soloist with the Athens Symphony, Danville Symphony and the DeKalb Symphony Orchestra have been scheduled. She is currently working on collaborative recordings. Thomas models performance technique by being an acclaimed performer. Dr. Tom Pearsall, Georgia Southern Professor of Piano, says that Thomas is a "first rate pianist...whose recording of piano works by George Rochberg...is nothing less than stunning."
Her leadership as a Past President of Georgia Music Teachers and as MTNA Southern Division Chair demonstrates her stalwart presence in meeting goals of the organization. Having joined MTNA while first teaching in Wisconsin, she helped found the Stevens Point Area MTA.
Her teaching philosophy elucidates her approach to the piano studio.
I try to show respect for each student in my studio... One of my most important jobs is to help students recognize their own potential. Sometimes students see themselves as they were several years earlier, rather than realizing how far they've come in the recent past. Other students see only their weaknesses and can't yet see where their talents lie. Still others have big dreams that don't match their abilities. I need to see each student's potential so that, not only can I choose appropriate repertoire for them for next year, but also give them some career guidance upon graduation. My research area at the University of Georgia comprises that of performing as a recitalist, chamber musician, and orchestra soloist. Being an active performer enables me to be a much stronger and more informed teacher. Talking about music is one thing. But, demonstrating at the piano in order to get a point across is something entirely different. As the phrase goes: 'A picture is worth a thousand words.'
Student Jan Ritchie affirms Thomas' dedication to teaching in describing her piano lessons with Thomas. Dr. Thomas "hooked me as soon as I had a lesson" with her ability to "masterfully construct imagery in" using "story telling, colors, and a vast array of adjectives to communicate that intangible spark that music entails."
Dr. Richard Zimdars, University of Georgia Professor of Piano, says that Thomas "has successfully filled roles as teacher, administrator, performer, recording artist, and as advocate extraordinaire for MTNA at all levels of MTNA's organizational structure. Martha's conference presentations demonstrate her understanding of critical pedagogy trends and topics."
GMTA is very pleased to acknowledge Martha Thomas as the 2012 GMTA Teacher of the Year.
---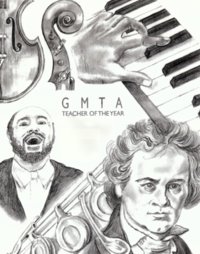 Arlene Broadhurst Martinides created this image in memory of her mother Joan Broadhurst, a long-time GMTA member.
Previous Teacher of the Year Honorees
We are pleased to share biographies and teaching tips of previous GMTA Teachers of the Year:

2011 David Watkins


2010 Lois Finlay


2009 William and Mary Ann Knight


2008 Aurelia Campbell


2007 George Mann


2006 Naegeli Metcalf


2005 Nancy Elton


2004 Jean Mann


2003 Jeannine Morrison


2002 Betty Nolting