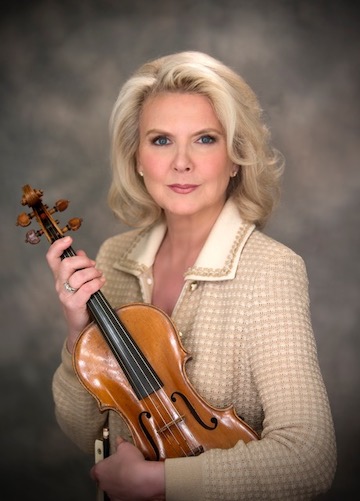 Sonja Foster
2021 GMTA Teacher of the Year

Sonja Foster's Teaching Tips
As the recipient of GMTA Teacher of the Year, Sonja wishes to give a special tribute to her remarkable parents, Lyle and Ruth Foster, who made everything possible for her career in music; to her late brother, Lawrence Foster, a world renown concert cellist who constantly inspired her; and to her husband of 32 years, Frank Allen, who gives her his unwavering encouragement.
Sonja Foster is a distinguished American violinist and pedagogue who is an alumna of The Curtis Institute and The Juilliard School, having studied for seven years with the legendary Ivan Galamian. Hailed for her "fiery virtuosity" and "luscious singing tone," Sonja has performed extensively across the US in recital and as a soloist with orchestra. She soloed regularly with her late brother, Lawrence Foster.
Maestro Mehli Mehta, father of Zubin Mehta, featured Sonja in her Los Angelis debut with his orchestra performing the Sibelius Concerto. The Atlanta Music Club sponsored Sonja's Atlanta debut at the Woodruff Arts Center with Edith Karney Schiff at the piano. She performed the Bruch Concerto with the Sandy Springs Chamber Orchestra ( now the Georgia Philharmonic),with Maestro Charles Schiff conducting. She has also been featured in recital for the Pro-Mozart Series, UGA, GPTV, the High Museum of Art,Dekalb College and Piccolo Spoleto Festival in Charleston where she world premiered a sonata by Curtis Bryant, with Cary Lewis, piano. In addition, she has appeared across America in many concerts and on television.
Dr. Robert Schuller wrote about her in his book, "Life's Not Fair But God is Good" after she was interviewed by him and performed at his church in California which was broadcast on world wide TV.
Born in Chicago, she began piano at the age of five and violin at the age of seven. She made her debut with orchestra at age 12 and won many competitions. She was featured on the NBC-Chicago, "Artists Showcase" TV program with Lous Sudler, President of Chicago Symphony at age 14. She soloed with the Civic Orchestra of Chicago in Orchestra Hall at age 15.
Ivan Galamian chose Sonja to be in his student at age 15 at The Curtis Institute where she remained three years. She continued with him at The Juilliard School, completing her degree.
Upon graduating from Juilliard, she combined teaching with her solo performing. As a pedagogue, Sonja was on the faculty at Trinity College, Il. and Wheaton College, Il, where she was Head of Strings until her move to Atlanta. She opened her studio in Atlanta for exceptionally gifted pre- college violin and violists. Many of her students have gone on to international careers including Kristen Lee, Concert violinist; Joel Link, First Violin of the Dover Quartet and First Place Winner of the Menuhin Competition; and Phillip, Janet and Timothy Ying of the Grammy winning Ying Quartet. Too many to mention have gone on to significant careers in music and other disciplines which are making a difference in the world. You can read more at sonjafoster.com.
Two of her students have won 1st place at MTNA National Competition and three others have won 2nd and 3rd place.Many have won the state of Georgia for MTNA and several in Florida. Others have won most every competition in the Southeast.
Her students have been accepted at every major music school in America including The Juilliard School and The Curtis Institute, many on full scholarship.
Sonja has given Master Classes at Vanderbilt University, Utah State University, Pacific Union College and Columbus State University to name a few.
Sonja continues to teach highly gifted violinists from Georgia, Florida, North Carolina and Tennessee both in person and by Zoom.
In 2016, Governor Nathan Kemp of Georgia gave her a written Commendation for her work with students. Senator Johnny Isaakson wrote to her recognizing her work with talented students in Georgia.
---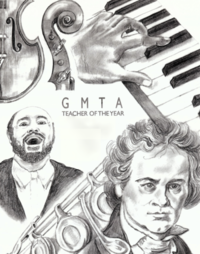 Arlene Broadhurst Martinides created this image in memory of her mother Joan Broadhurst, a long-time GMTA member.
Previous Teacher of the Year Honorees
We are pleased to share biographies and teaching tips of previous GMTA Teachers of the Year:

2020 Portia Hawkins


2019 Huu Mai


2018 Ping Yun-Hsu


2017 Susan Andrews


2016 Susan McDuffie


2015 Jan Adams


2014 Susan Naylor


2013 LaNelle Nash


2012 Martha Thomas


2011 David Watkins


2010 Lois Finlay


2009 William and Mary Ann Knight


2008 Aurelia Campbell


2007 George Mann


2006 Naegeli Metcalf


2005 Nancy Elton


2004 Jean Mann


2003 Jeannine Morrison


2002 Betty Nolting