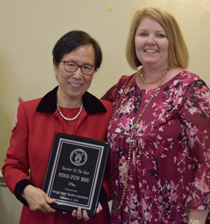 Ping-Yun Hsu
2018 GMTA Teacher of the Year

Ping-Yun Hsu's Teaching Tips
Every year, the Georgia Music Teachers Association recognizes one teacher as Teacher of the Year. Teachers are nominated by colleagues and a committee is formed to choose the Teacher of the Year. It is my pleasure to introduce you to the 2018 GMTA Teacher of the Year, Ping-Yun Hsu, by sharing some of the letters of support written on her behalf.
Letters of recommendation from students, parents, and colleagues describing our Teacher of the Year were inspiring to read. Students spoke about her positive impact and how she teaches the emotion of music. Some of her students shared:
"She was the first teacher that showed me what expression and emotion was when I sat down at the piano bench."
"She actively stood by my side every minute of my lesson because she was so passionate about the notes on the pages before me."
"She made me jump in my seat when she showed excitement through her own jumping beside me. Even to this day, I can still vividly picture our lessons in her studio."
Parents described her ability to individualize lessons for each child as one of her top qualities telling how the student always comes first. She has a vision for each of her student's future musical development and plans what is best for the student by guiding students, even those with top achievements, to her fellow piano teachers who she thinks will be the best for the students' future. Her insight and generosity is recognized and respected by so many teachers, students, and parents.
One parent commented, "She is able to connect with her students and customize their piano lessons according to their strengths. She is a very positive and encouraging teacher who is able to make confident self-motivated musicians. She has a generous and special vision for each of her student's future development."
A colleague shared about her teaching studio that includes multiple practice rooms and a recital hall. "The studio is used for a number of special events, mostly geared towards enriching the student's musical experiences. She often holds masterclasses inviting other teachers to work with her students giving them the opportunity to learn from other teachers. Her reason for this is because she believes a student should learn as much as they can, from as many great teachers as possible."
With her desire to always put the student first, you can understand how so many of her students win top awards at the state and national level. Looking over past state winners, you will find that her students are among the finest in our state.
Not only is she considered an outstanding teacher, but you will also find the 2018 GMTA Teacher of the Year serving our organization. She has chaired Audition events numerous times and volunteers at the Region and State levels each year. I personally cannot think of a year that she has not volunteered in the GMTA Auditions. She has also served on the board at the local and state levels. She is always willing to help and take care of anything that needs doing. Her support of the local and state associations is an example for each of us.
A former student states:
"She is one of the most incredible mentors and human beings in general because she does all things with humility and intentionality. Her goal in teaching piano and serving her students and parents did not run off of attention or recognition but rather the small things that were far more important than her own pedestal. She is quite frankly the humblest and kind[est] person I know."
Our 2018 Teacher of the Year was nominated by Huu Mai. She has inspired many students and teachers over her career and is a vital part to GMTA. Ping-yun Hsu, we applaud and congratulate you on this well-deserved honor!
Special thanks to the selection committee: Susan Naylor, 2015 Teacher of the Year; Jan Adams, 2016 Teacher of the Year; and Susan Andrews, 2017 Teacher of the Year.
Thanks also to those who contributed to this article: Huu Mai, Elaine Liu, and Tiebin and Ethan Liu.
---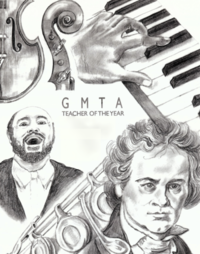 Arlene Broadhurst Martinides created this image in memory of her mother Joan Broadhurst, a long-time GMTA member.
Previous Teacher of the Year Honorees
We are pleased to share biographies and teaching tips of previous GMTA Teachers of the Year:

2017 Susan Andrews


2016 Susan McDuffie


2015 Jan Adams


2014 Susan Naylor


2013 LaNelle Nash


2012 Martha Thomas


2011 David Watkins


2010 Lois Finlay


2009 William and Mary Ann Knight


2008 Aurelia Campbell


2007 George Mann


2006 Naegeli Metcalf


2005 Nancy Elton


2004 Jean Mann


2003 Jeannine Morrison


2002 Betty Nolting