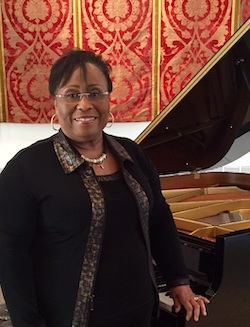 Portia Hawkins
2020 GMTA Teacher of the Year

Portia Hawkins' Teaching Tips
As the recipient of the Georgia Music Teacher of the Year, Portia Shuler Hawkins wishes to pay special tribute to her remarkable parents; her father, Dr. J. Milton Shuler, a college professor at Claflin College, and her mother, Edna Williamson Shuler, an elementary school teacher.
Ms. Shuler Hawkins' early education started in Orangeburg, South Carolina, her hometown. She attended public elementary school and the Felton Laboratory School of South Carolina State College. Piano study was pursued with Mrs. Janie Jenkins, her church organist, and later with college instructors Dr. James George and Dr. Geneva Handy Southhall. Portia served as her high school choir accompanist and church accompanist for the children's choir.
After graduating from Wilkinson High School with second highest honors, she was accepted to Fisk University. At Fisk, she majored in piano, studying with Anne and Matthew Kennedy. She also served as a vocal accompanist and sang with the Fisk Jubilee Singers. After graduating from Fisk (Magna Cum Laude), Portia continued her studies at Yale University where she received her Master of Music degree in Piano Performance. While at Yale, she received the George Wellington Miles Award for Outstanding Piano Performance studying privately with Francis Whang and Ward Davenny. She later studied with Pulitzer Prize Winner George Walker, Betty Nolting and Virginia Hutchins.
She returned to her hometown to begin her teaching career at Claflin College and South Carolina State College. From there Ms. Shuler Hawkins served in teaching positions at Southern University, Baton Rouge, Louisiana; Virginia State College, Norfolk, Virginia; and in the Atlanta area at Emory University, Georgia Perimeter College, Agnes Scott College, Spelman College and Clark Atlanta University.
Portia Shuler Hawkins has had the honor of performing in several east coast venues, which included numerous colleges and universities. Being featured on NPR's Performance Today performing the music of Florence Price was truly one of her most memorable performances. Her CD, "African-American Sampler," was heard for many years on WABE-FM public radio and other public radio stations across the country. Her presentation of the music of Robert Nathaniel Dett and her Faculty Recital at Georgia Perimeter College were featured on the "Atlanta Music Scene," WABE-Radio Atlanta.
In June, 1992, Portia Hawkins was featured in the Atlanta Journal Constitution article, The Piano Lesson, written by AJC music critic Derrick Henry. Other performances in the Atlanta area have included The High Museum of Art, The Woodruff Mansion, The Wesley Woods, Renaissance, Lenbrook and Coventry Court Retirement Communities, Spelman College, Morehouse College, Georgia Perimeter College, Agnes Scott College, Georgia State University, Kennesaw University and Spivey Hall. She performed a collaborative lecture-recital with Dr. Oral Moses at Alpharetta Presbyterian Church in February 2020. She has performed several recitals at the Harriet Tubman Museum in Macon, Georgia.
Portia served as a consultant to BRAVO Music Camp in Savannah, Georgia for nine years and is presently a member of the Board of Diversitá Opera Arts Company in Dallas, Texas. Ms. Shuler Hawkins has been a member of GMTA for almost forty years and has served as State Certification Secretary and a GMTA Board Member-At-Large. She was President of North DeKalb Music Teachers Association and 2nd Vice- President for Membership of North Fulton Music Teachers Association. Last year she was awarded a GMTA Teacher Grant to assist in promoting and preserving piano music of classically-trained African-American composers. She is a member and past president of the Alumni Chapter of Mu Phi Epsilon and a member of the Atlanta Music Club, the National Federation of Music Clubs and the Metropolitan Atlanta Musicians Association. She has served as organist at First Church of Christ Scientist in Atlanta and Roswell, Georgia. She has also served as a guest musician at North Avenue Presbyterian Church in Atlanta, Georgia, and continues to be a frequent accompanist for professional singers and instrumentalists.
Today, Portia Shuler Hawkins teaches privately in her Roswell, Georgia piano studio and frequently serves as an adjudicator for the Georgia Music Teachers Association, the National Federation of Music Clubs, and the Metropolitan Atlanta Musicians Association.
Portia is married to William P. Hawkins, Jr. and they are the parents of John Hawkins of San Francisco, California.
---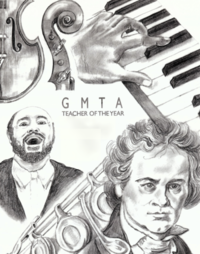 Arlene Broadhurst Martinides created this image in memory of her mother Joan Broadhurst, a long-time GMTA member.
Previous Teacher of the Year Honorees
We are pleased to share biographies and teaching tips of previous GMTA Teachers of the Year:

2019 Huu Mai


2018 Ping Yun-Hsu


2017 Susan Andrews


2016 Susan McDuffie


2015 Jan Adams


2014 Susan Naylor


2013 LaNelle Nash


2012 Martha Thomas


2011 David Watkins


2010 Lois Finlay


2009 William and Mary Ann Knight


2008 Aurelia Campbell


2007 George Mann


2006 Naegeli Metcalf


2005 Nancy Elton


2004 Jean Mann


2003 Jeannine Morrison


2002 Betty Nolting