Teacher Of The Year Application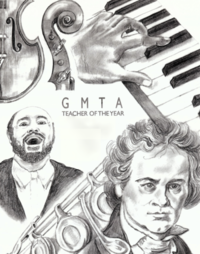 Arlene Broadhurst Martinides created this image in memory of her mother Joan Broadhurst, a long-time GMTA member.
Nomination questions?
presidentelect.georgiamta
@gmail.com
This award is presented annually to a member of GMTA in recognition of lifetime achievement as a music teacher, with excellence in teaching, musicianship, professional activity, and service to the community and/or state. Any GMTA member may nominate any other GMTA member for the Teacher of the Year. The GMTA Teacher of the Year will be selected from nominated applicants and entered in the MTNA Teacher of the Year competition.
The following information will be required:
Teaching/professional achievement
Number of years of teaching experience
Evidence of teaching excellence (i.e. students' successes)
Accomplishments/contributions to MTNA
Participation in local, state, and/or national MTNA programs
Community involvement
Former student and/or parent letter(s) of support
Professional colleague letter(s) of support
Nominating letter from the state organization
Nominations must be submitted by the second Monday in September.
The recipient of the award will submit the following via e-mail:
Once the recipient of the award is notified that individual will be asked to submit a photo and a two-page document focusing on one or several teaching tips that he/she has found to be very useful over the years. This document may or may not include musical examples. Teaching Tips from the selected Teacher of the Year will be included online at the GMTA web site.
Teacher of the Year Online Nomination Form